H1 Economics Tuition:
The Best H1 Economics Tutors in Singapore
With over 6,000 qualified and experienced H1 Economics Tutors, we are confident that MindFlex's Best H1 Economics Tuition will be able to help you to ace your Economics examinations. Our Top H1 Economics Tutors are well-versed with the MOE Syllabus, and will thus be helpful in your H1 Economics journey.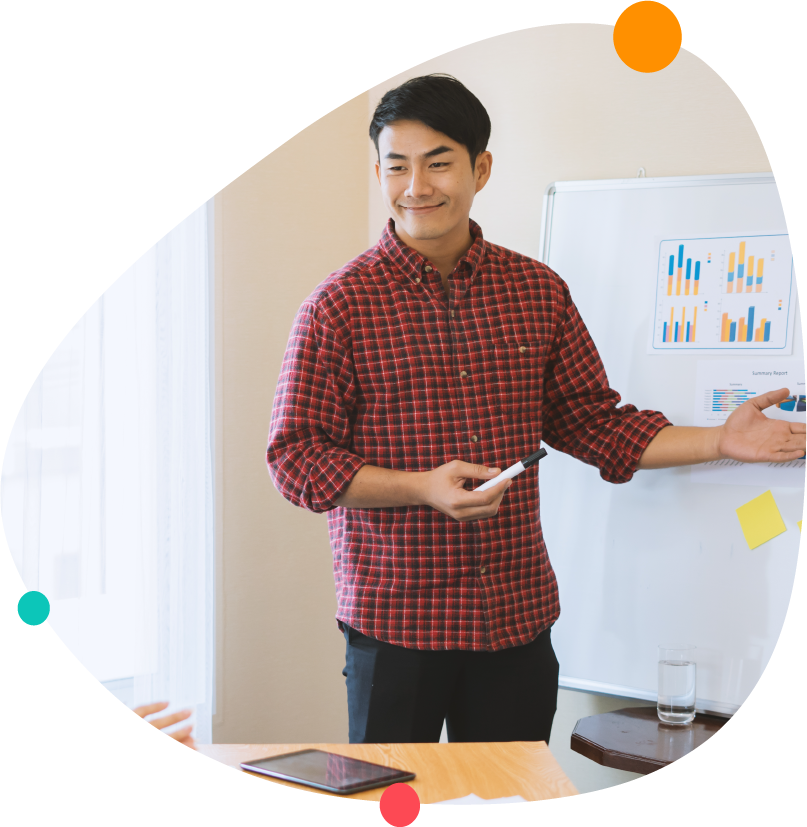 Importance of H1 Economics Tuition
H1 Economics is a highly popular choice for many students, especially JC students who are in the Science stream taking H1 Economics as a Contrasting Subject. As such, it is an extremely competitive subject to score in, given the large number of students in Singapore sitting for the paper.
As such, many students tend to opt for H1 Economics Tuition in order to keep up with the competitive bell curve. Even with the myriad of online resources available to help students to score in Economics, they will not be as effective as a 100% dedicated H1 Economics tutor.
With a Top H1 Economics Tuition in Singapore, JC students will be provided with the skills to ace their examinations, allowing them to have a competitive edge over the rest of their peers.
Free Request For H1 Economics Tutor
How Much Does H1 Economics Tuition Cost
The tuition rates for A Level H1 Economics Tuition tend to differ depending on the type of tuition being engaged, as well as the reputation of the particular tuition teacher. Rates for tuition centres tend to be in the $200-$250 range, and can be even $500 or more for tuition centres that are highly-acclaimed. For private 1-1 home tutors, rates are approximately $40-$120 per hour, depending on the tutor's amount of teaching experience, as well as their qualifications.
Outline of H1 Economics Tuition
Applying Economic Analysis to Real-World Economic Issues and Policy Concerns
Assessing Reliability of Information
Synthesising and Crafting Logical Arguments
Constructing Logically Sound Economic Arguments
Critically Evaluating Different Perspectives and Explanations
Interpreting and Processing Information and Data
Challenges Faced By H1 Economics Students
Learning A Brand New Subject
Many JC H1 Economics students are new to Economics when they enter JC, since Economics is a less common subject offered in only a few Secondary Schools. As such, a challenge faced will be the steep learning curve as students learn this brand-new subject. Moreover, many H1 Economics students are thus going to be extremely overwhelmed by the new rigour of the curriculum, as well as their new competitive environment.
Therefore, MindFlex recommends that students engage a H1 Economics Tutor. By engaging a JC Economics Tutor, students will be able to have a source of support as they learn H1 Economics.
Stress Out Over A Level Examinations
H1 Economics students will have to take their A Level Economics examination at the end of their first year – which results in an extremely short runway and time frame for students. Students usually struggle to get a full grasp of the Economics syllabus content, resulting in increased stress levels over their upcoming A Level Economics examination.
Hence, engaging a H1 Economics Tutor can be extremely handy as they will be able to provide targeted practices and useful resources to aid the student in their overall mastery of the Economics language. Through weekly interactions, the H1 Economics Tutor will also be able to identify weaknesses and work on them with the student – effectively helping students to improve their Economics grades.
Time Management
One of the more common issues faced by H1 Economics students is the inability to complete their Economics paper on time. This is largely due to insufficient practice and lack of exposure to the various question types, resulting in them being unaware of how to tackle the questions during examination. As such, students often hand in incomplete papers, or hand in subpar answers.
With a H1 Economics Tutor, however, students will be given weekly practices and exposure to other schools' papers and past year papers to help hone their Economics examination skills, allowing them to be more confident when tackling their Economics examinations.
Lack of Direction in Writing
Many H1 Economics students may have a lack of direction when they craft their answers or arguments. Students may be extremely knowledgeable about their H1 Economics content, but they still may not know what to write in their examination questions. As a result, these students are not able to fit their vast amount of content knowledge to fit the scope of their examination questions, and may end up being penalised for not answering the question.
Here at MindFlex, our Top JC Economics Tutors will be able to provide comprehensive examination preparation that is exam-centred, as well as give students more than enough exposure to the various question 'types' in examinations.
Why You Should Engage A H1 Economics Tutor
1.

 
Help Students Prepare for A Levels
The A Level H1 Economics examination is an extremely important examination for students, given its high-stakes nature. Moreover, students also have their other subjects to prepare for, especially their H2 subjects that are even more content-heavy in nature.
With a H1 Economics Tutor, he/she will be able to provide close guidance and support for the student. With this additional guidance, students will definitely be more at ease during their A Level H1 Economics preparation, and will be more confident in tackling the examination.
2. Targets Students' Weaknesses in Economics
The H1 Economics syllabus relies heavily on foundational skills such as Analysis and Evaluation. For students who do not have a strong foundation in these crucial skills, they might find it increasingly difficult to do well in their H1 Economics examinations – resulting in heightened stress levels.
With a H1 Economics Tutor, they will be able to help target the student's weaknesses – be it evaluation skills or case study skills. With the undivided attention of the H1 Economics Tutor, any weak foundational skills will be corrected in no time, allowing them to put their best foot forward during the H1 Economics examination.
3. Gain Crucial Examination Skills

The H1 Economics Curriculum not only requires students to achieve content mastery of the Economic syllabus, but it also requires students to tailor this knowledge to the real-world context. As such, no matter how well-versed students are in the textbook content, they will still be unable to ace their H1 Economics Examinations if they are unable to correctly apply their content knowledge to their examination questions.
As such, a committed A Level Economics Tutor is thus useful as tutors will be able to teach crucial examination skills to students. This will ensure that students will be able to make proper use of their Economics content knowledge in examinations, and ace their H1 Economics.
4. Aid Students in Clearing Misconceptions

Many H1 Students tend to procrastinate clarifying their doubts with their teachers until it is examination season. However, by then, it is often too late, as teachers are often swamped with questions and consultation requests from other students during this period.
Here at MindFlex, we strongly recommend that students clear all of their misconceptions as soon as possible. This is because the sooner students' doubts are cleared, the faster they can gain mastery in that topic and begin their revision for their A Level Examinations which are extremely crucial. A committed H1 Economics Tutor will be able to assist, and provide their undivided attention to students in a private, 1-1 setting.
What To Look For in A H1 Economics Tutor
Ability to Help Students in A Levels
H1 Economics is one of the more content-heavy and skill-based H1 subjects, which could be an immense source of stress for many H1 Economics students. As such, it is of the utmost importance to find a H1 Economics Tutor that is equipped with the relevant teaching experience and abilities to help ease students' worries through targeted teaching techniques.
Moreover, you should look for a H1 Economics Tutor that has experience in helping H1 Economics students, or have testimonials from H1 students who have achieved stellar grades in their A Level Economics.
Ability to Spot Weaknesses
Since Economics is a skill-based subject, it might be difficult to spot mistakes and weaknesses as compared to other subjects. As such, it will definitely be important to pick a H1 Economics Tutor that is experienced enough to spot any of your child's weaknesses or mistakes in terms of Evaluation, Inference or Trend Analysis.
With such a short runway to the Economics A Level Examinations, it is even more crucial for H1 Economics Tutors to be highly attentive to the student's weaknesses so that they can be worked on as soon as possible.
Teaching and Academic Qualifications
When engaging a H1 Economics Tutor, it is important to select one that has stellar academic and teaching qualifications. It may be beneficial to pick a tutor that has graduated from an Economics related course and has relevant teaching experience. You might also want to look out for NIE-trained Economics tutors who have previously taught in MOE schools.
These qualifications are crucial in ensuring that the tutor is qualified enough to teach your child, and they serve as important points to look out for when looking for your H1 Economics Tutor.
Ability to Provide Additional Resources
At the H1 level, it might be difficult to find reliable, updated and good Economics resources that will be able to help students. By selecting a H1 Economics Tutor that is able to provide additional resources, you can save time on hunting for resources and leave it up to your H1 Economics Tutor!
The ability to provide additional resources also means that the tutor has spent time and effort specially curating these exclusive H1 Economics resources, a sure sign of their dedication and commitment to teaching Economics. Hence, when searching for a H1 Economics Tutor, it is definitely a good idea to look out for tutors who are able to provide their own self-collated Economics resources.
Testimonials from H1 Economics Students
Miss Tan has been so helpful in ensuring that I understand the concepts taught in class. She was always willing to give me extra consultations over WhatsApp outside of class time, even late at night. Thank you so much Miss Ong!
Alice Chia
H1 Student from Eunoia JC
I started H1 Economics Tuition with my tutor back in February. Under the guidance of my tutor, I started seeing improvements in my grades. I even scored the highest in my class in the recent common tests, which I did not think was possible!
Tan Hong Yi
H1 Student from Catholic JC
Thank you Samantha for being so patient with me! I had a really weak foundation in Econs, and Samantha patiently guided me and gave me tons of summary sheets and practice papers. I ended up scoring a B for Promos!
Justin Tay
H1 Student from Jurong Pioneer JC
I started Economics Tuition lessons with Sandra at the start of the year. Over these few months, she has managed to build a strong foundation in my Econs, and has patiently gone over the content until I understand it. I even managed to get an A in my most recent common tests!
Jonathan Foo
H1 Student from Catholic JC

H1 Economics Video Resources
Engage The Best H1 Economics Tuition in Singapore
Here at MindFlex, we are home to some of the most qualified H1 Economics Tutors in Singapore. Handling H1 Economics is definitely not an easy task – but it's something our H1 Economics Tutors can help with!
Find out how our experienced H1 Economics Tutors can help!
FREE Test Papers
Available For Download!
MindFlex has specially curated Exam Papers from Top Schools to download & practice. All Levels & Subjects Available.
100% FREE, Updated & Reliable!
Other Junior College Economics Pages